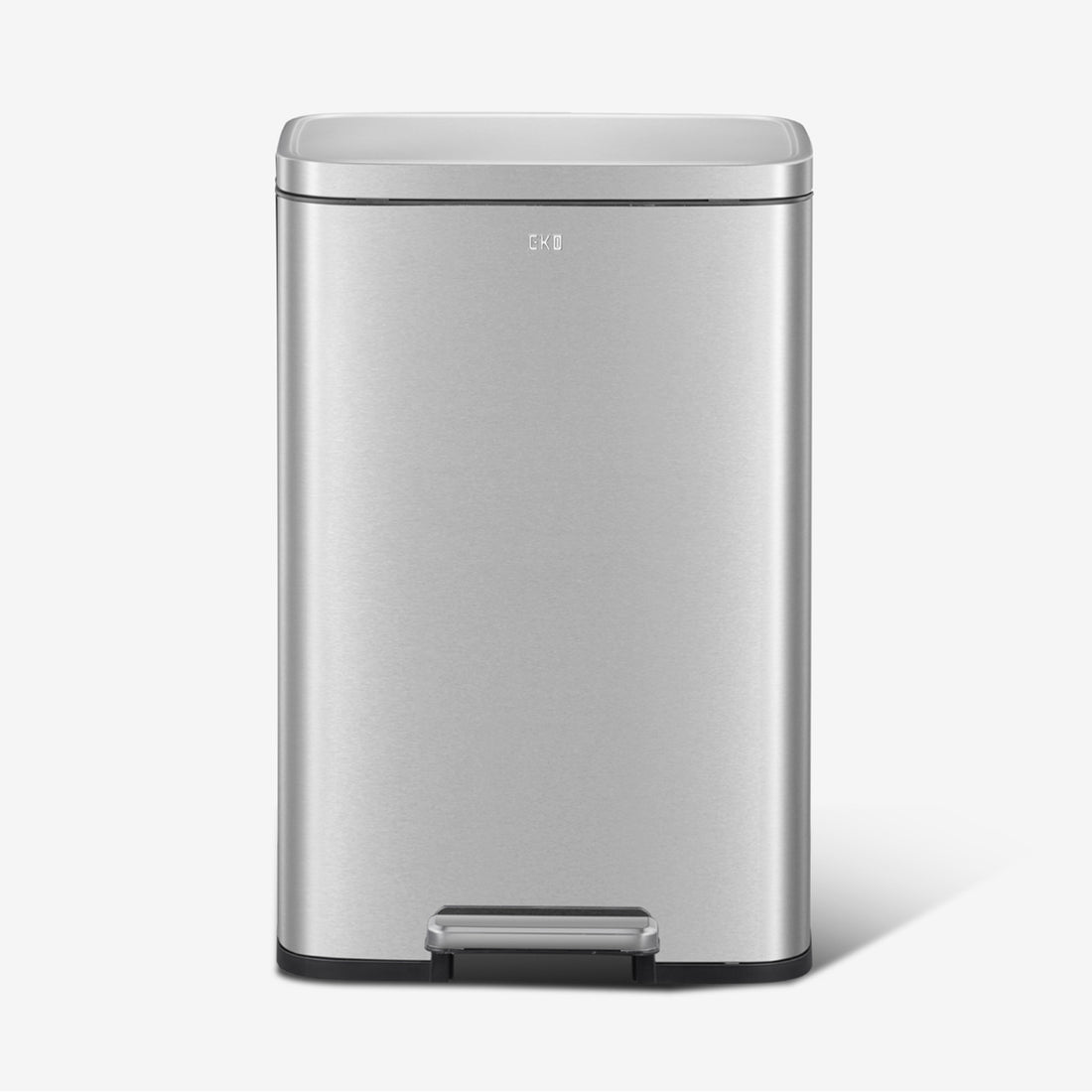 Madison Step Trash Can with Liner – 50L / 13.2G
Brushed Stainless Steel
• Fingerprint resistant stainless steel finish
• Soft close lid
• Stay open lid
• Built-in deodorizer compartment for your choice of odor filters or perfume capsules to trap unwanted odors
• Raised inner bucket with handles, easy to change bags
• Plastic bag fixer on the inner bucket to keep trash bag in place
• Extra wide opening for convenient, mess-free trash disposals
The EKO Madison Rectangular Step Trash Can is constructed of fingerprint-resistant brushed stainless steel for a sleek appearance that complements your living spaces without drawing attention to your trash can. The rugged step pedal mechanism is built to withstand years of daily use, and the bi-force damper soft open and close lid prevents slamming and banging. Stay open locking lid allows you to hold the lid open longer when necessary. Use your favorite deodorizer in the built-in compartment on the underside of the lid to keep your kitchen smelling fresh between bag changes. The removable polypropylene inner liner has a cut out bag fixer slot to tuck in your trash bag so it won't slip down into the can. Generous 50 L (13.2 Gal) capacity takes standard kitchen trash bags so no special orders required.
Dimensions: 14 x 17 x 25 inches (36.6" with lid open)
Item Weight: 16.96 pounds
Capacity: 50 liters (13.2 gallons)
Material: Stainless Steel
Shape: Rectangular
Opening Mechanism: Step-On
Model: EK9361MT-50L

Ease Of Use
Cleaning has never been easier with this trash can's removable inner bin.
No Disruptions
The trash can lid gently eases down with a soft close – ensuring your space is kept quiet and relaxed.
Built To Last
Built with strong metal mechanisms that are tested to last more than 100,000 steps – this trash can offers durability as well as a soft, quiet closure.
Brushed Stainless Steel
The elegant brushed stainless steel is fingerprint proof, smudge resistant, and easy to clean.
Simplifying Daily Tasks
The locking lid function keeps the lid open for longer tasks.
No Unwanted Smells
The built-in deodorizer compartment effectively contains odors – keeping your home smelling fresh.
Convenient Carrying
Built in handles make this trash can easy to carry.